History
QUALITY BY TRADITION
The company AKEMI chemisch technische Spezialfabrik was established 1933 by Erich Höntsch in Dresden, Germany. The founder of the company developed at that time the first adhesive based on polyester resin and identified the trend-setting relevance of reaction resins for the stone industry.
Since that time AKEMI is the worldwide leader in the development and production of 2-component adhesives and fillers based on polyester and epoxy resins. Based on this experience a wide and specially aligned care program for natural and engineered stone has been developed and constantly improved. This product range is completed by highest quality sealants of the building chemistry assortment. Products like polyester or 2-component fillers for the car repair and maintenance are another business area of AKEMI.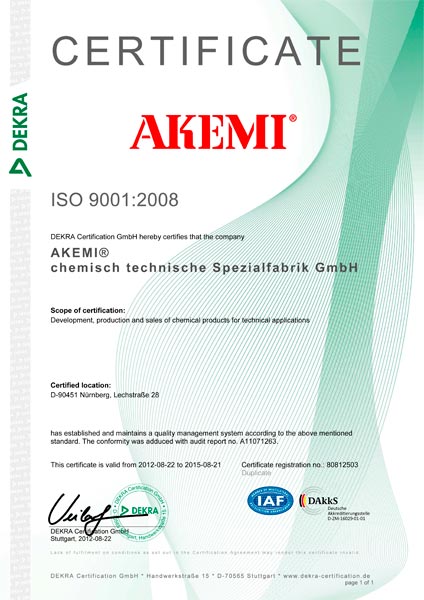 In the in house training centre in Nürnberg highly trained technicians and chemists impart the necessary knowledge for the correct application of AKEMI products.
As a future orientated company AKEMI is permanently working hard on the improvement and expansion of the product range in order to offer innovative solutions to its clients also in the future.

Today AKEMI is exporting in more than 90 countries in the world and has distribution establishments in the U.S (Atlanta), Brazil (São Paulo), India (Bangalore) and China (Bejing).